NO CHILD SHOULD GO HUNGRY
Hungry kids need your help to become effective learners! The "Hungry Kids Project" helps to ensure that no child goes to school hungry.
10,000 weekend meals are distributed annually, primarily to elementary school students
All purchases, packing and distribution of food is done by volunteers
The program is totally confidential
Most importantly, students have full bellies and are ready to learn!
Fortunately, programs exist that feed children during the school day. But what about on weekends? That's where we come in. The Hungry Kids Project sends HUSD children home with food packs of food for the weekend. With adequate nutrition, kids can return to school on Monday well nourished and ready to learn.
WHAT'S THE PROJECT MISSION?
To enable students to learn, by eliminating childhood hunger.
WHO DO WE HELP?
We help hungry kids! Inspired by the vision of Carm Staker, the founder of HUSD Hungry Kids, we serve the children in the Humboldt Unified School District (HUSD) that have been recommended by school staff as students that may not have access to adequate weekend meals.
Last year, 62.5% of the children in the ten HUSD Schools were eligible for free and reduced meals at school 5 days a week during the school year.
The Hungry Kids project goes a BIG step further, by sending these children home on weekends with food packs filled with healthy food.
WHAT'S IN THE FOOD PACK?
Students are provided with the following over weekends while school is in session:
2 breakfasts
2 lunches
2 dinners
PROJECT COST BREADOWN?
LABOR - $0
All purchases, packing and distribution of the food packs are done by volunteers.
FOOD - $6.50 Per pack, per weekend
We operate with your donation of food or money along with grants that we receive. From that we purchase goods through partnerships with school food and nutrition services and local grocery stores.
HOW CAN YOUR FAMILY HELP?
Individual donations of $10, $25, $50 or $100 will help us supply these meals to the children of HUSD over the weekends, making them healthier and able to concentrate and learn during the school week.
Food donations should include:
5-7 ounce cans of tuna or chicken
16 ounce cans of vegetables
Individual Fruit Cups
16 ounce plastic jars of peanut butter
Boxes of individually wrapped crackers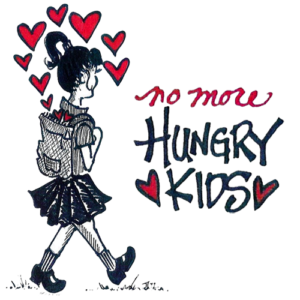 Did you know that you can help hungry kids simply by doing your normal shopping at Fry's and Amazon? This is just one more way you can help support HUSD Hungry Kids Project. HUSD Hungry Kids Project is registered with Fry's Community Rewards and Amazon Smile under the name:
"Humboldt Education Foundation"